Friday August 19, 2022
Washington News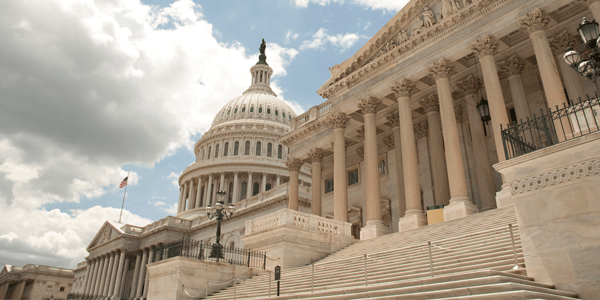 New IRS Online Accounts For Individuals
On November 17, 2021, the Internal Revenue Service announced that it had launched a new and improved identity verification and sign in process. The new accounts are available on
IRS.gov
. The new accounts use a technology provider with the web address ID.me. These accounts include substantial improvements in the identity verification process.
IRS Commissioner Chuck Rettig stated, "Identity verification is critical to protect taxpayers and their information. The IRS has been working hard to make improvements in this area and this new verification process is designed to make IRS online applications as secure as possible for people. To help taxpayers and the tax community, we are improving the accessibility of online tools that help families manage their Child Tax Credit, check on their IRS accounts and securely perform other routine tasks online."
The ID.me initiative has been developed under the Secure Access Digital Identity Initiative of the federal government. It will include additional services, such as the ability to connect taxpayers with their tax professionals.
The ID.me account will phase out existing IRS accounts by the middle of 2022. Therefore, the IRS urges taxpayers to create an ID.me account as soon as possible.
Some taxpayers already have an ID.me account through the Child Tax Credit Update Portal or another government agency. The ID.me account can be used for accessing your Social Security, Veterans Administration or IRS accounts.
An individual can create the ID.me account on
IRS.gov
. After selecting "View Your Account" on the IRS home page, it will be necessary to create the new ID.me account.
The ID.me account page directs you to take smartphone or webcam pictures. The pictures should be the front and back of a driver's license or a passport. After the smartphone pictures of your driver's license have been processed, the application will ask you to complete a "video selfie". You will need to avoid glare on the driver's license or passport. For the video portion, make sure you are centered and remove your glasses or any other item that may interfere with the video selfie. After completing the pictures and videos with your smartphone, you will be directed back to the computer portal to complete the remaining requested information. Once you verify your information is accurate and complete, you will be prompted to authorize the sharing of your information with the IRS.
After your identity has been verified, you will have access to the Child Tax Credit Update Portal, IRS Online Account, the Get Transcript Online tool or an Online Payment Agreement.
Editor's Note:
If you have a problem with the stringent requirements for ID.me verification, there is an ID.me IRS help site where you can create a support ticket.
Build Back Better Act Passes House
On November 19, 2021, the House of Representatives passed the Build Back Better Act by a vote of 220 to 213. The vote was generally along party lines.
House Majority Leader Steny Hoyer (D-MD) stated, "Too many Americans are just barely getting by in our economy. And we simply cannot go back to the way things were before the pandemic."
The bill will be sent to the Senate, where it is expected to undergo substantial changes. However, the general provisions of the bill indicate the probable direction of the final legislation.
Climate Change — Over $555 billion is allocated to clean energy. $320 billion will fund tax credits for solar panels, efficient buildings and electric vehicles. The tax credit will be approximately 30% and the electric vehicle credit up to $12,500 per car or truck. There are additional financial incentives for manufacture of wind turbines and solar panels. An estimated 300,000 jobs will be created through a new Civilian Climate Corps to restore forests and wetlands.
Universal Pre–K Education — $400 billion will fund universal preschool for three and four-year-olds. Families with preschool children will receive subsidies and the cost of preschool will be a maximum of 7% of their income.
Child Tax Credits — The 2021 child credits of $3,600 under age six and $3,000 from age 6 to 17 are extended for one year. The credit for low–income individuals will extend for an additional period of time.
Family Paid Leave — Most industrialized nations already have a national paid family leave program for new parents. The BBB Act includes four weeks of paid family and medical leave. This paid leave can be used for new parents or for caregivers.
Health Care Spending — $165 billion is allocated for expanding the Affordable Care Act and Medicare coverage. Medicare will now include hearing benefits. There are also provisions that limit the increase in drug prices per year after drugs have been on the market for approximately one decade.
Affordable Home Care — The Medicaid program receives $150 billion of support to provide lower income individuals with subsidized home and community-based care.
New Taxes and Revenue — The funding plan is to pay for these new benefits with tax increases on corporations and high–income individuals. A new 15% minimum tax on corporations and a 1% surcharge on stock buybacks will fund part of the spending. There also is a tax surcharge of an additional 5% amount on income over $10 million and 8% surtax on income over $25 million. The 5% and 8% tax apply to estates and trusts with incomes over $200,000 and $500,000, respectively.
Editor's Note:
Your editor does not take a position on the provisions of this complex bill. This overview is offered as a service to our readers. Because the Senate is divided with 50 members in each party, each senator will have great influence on the final legislation. The Senate frequently takes an extended period of time to review legislation, so the BBB Act may not pass until late this year or early next year.
IRA Owner Taxable on Gold Coins in Home Safe
In
Andrew McNulty et al. v. Commissioner;
No. 1377-19; 157 T.C. No. 10, an individual with a self–directed IRA invested in a single–member limited liability company that purchased gold and silver coins. Because she held the coins in a home safe, the IRS assessment for distribution from the IRA and related penalties were upheld.
Mrs. Donna McNulty and her husband created self–directed IRA accounts in 2015. The accounts were invested in an LLC and the IRA custodian was Kingdom Trust Co. The Green Hill Holdings LLC received distributions from other retirement accounts and purchased American Eagle gold coins and a limited number of American Eagle silver coins. The coins were all held by Mrs. McNulty in a personal safe.
The IRS audited the McNulty's 2015 and 2016 tax returns and determined that there was a distribution from the IRA in the amount of the gold coins. It assessed tax and a penalty.
Mrs. McNulty had complete control over the gold coins. The court noted that "An owner of a self–directed IRA may not take actual and unfettered possession of the IRA assets."
However, the taxpayers claimed that there was an exception under Section 408(m)(3) that allowed the coins to be held in a personal safe. The Tax Court determined that the exception to custodial requirements did not apply to unfettered control of gold coins.
In addition, because Mrs. McNulty relied on information on a website that encouraged the purchase of American Eagle coins and did not seek advice from her CPA, she failed to demonstrate reasonable cause and good faith that would create an exception to the penalty. Therefore, the penalty was applicable.
Applicable Federal Rate of 1.6% for December — Rev. Rul. 2021-213 2021-49 IRB 1 (15 Nov 2021)
The IRS has announced the Applicable Federal Rate (AFR) for December of 2021. The AFR under Section 7520 for the month of December is 1.6%. The rates for November of 1.4% or October of 1.0% also may be used. The highest AFR is beneficial for charitable deductions of remainder interests. The lowest AFR is best for lead trusts and life estate reserved agreements. With a gift annuity, if the annuitant desires greater tax-free payments the lowest AFR is preferable. During 2021, pooled income funds in existence less than three tax years must use a 2.2% deemed rate of return.
Published November 19, 2021
Previous Articles
IRS Urges End–Of–Year Preparation For 2022
IRS Tips for 2021 Charitable Gifts
IRS Online Security Tips For Parents