Lois Szudy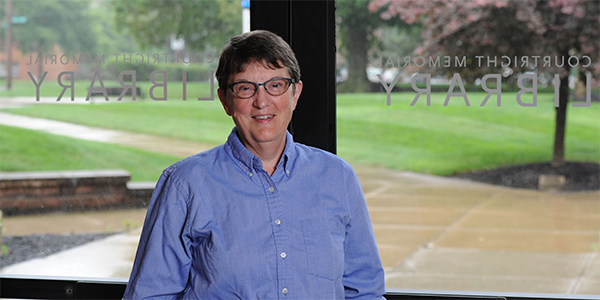 It takes a lot of encouragement to get Lois Szudy to sit down. Lois has been standing with Otterbein for a very long time, ever since stepping on the campus of Otterbein University in the summer of 1990 as the new library director of the Courtright Memorial Library, a position she held until her retirement in June 2015.
Szudy has never missed a beat in giving back to the University, spanning 27 consecutive years of giving to just about every fund-raising campaign held over that time span, including the Cowen Renovation Fund, Science Campaign, Towers Renovation Fund, Band Uniform Fund, and Turf Project to name just a few.
"I try to give to every single type of campaign going on," Szudy said. "We are stronger together than we are apart. I always felt I was a part of the University, not just a part of the library."
In keeping with the campaign spirit and combining two of her passions, the library and horses, Szudy made a sizable bequest as a part of the Otterbein "Where We Stand Matters" campaign to establish the Lois F. Szudy Library Endowed Fund and the Lois F. Szudy Equine Endowed Fund.
"People say I'm a very giving person," Szudy explained when asked about her generosity. "I do tend to give of myself. I always was the helper kid. Somebody needs help, Lois is there. From the time I was a teenager. The neighbor needed help. I was there helping."
Szudy acquired a life-long love of education from her parents, who were both teachers. Her mother taught fourth grade and her father taught business classes in high school. She grew up in Harrison, Ohio, but moved to Delaware, Ohio her junior year in high school after her father took a job with the Ohio Department of Education.
Like her parents, Szudy, at one point in her life, thought she would become a teacher too, teaching kindergarten, but by the time she got to college at Miami University, that had all changed. Since entering freshmen at Miami were required to declare a major, Szudy, still unsure of what she wanted to do, chose history as her major. It was not until late in her undergraduate career that Szudy discovered her life's true passion.
"You could minor in library science through the Education Department at Miami, but I didn't happen upon it until the very end of my junior year," Szudy explained. "I took a cataloguing class, and it was like, Oh man, I've found my love. I liked to explore. I took all kinds of classes at Miami that had nothing to do with my history major."
In fact, at one point, Szudy considered switching her major from history to microbiology.
Szudy took a few more library science courses and spent one term working in the library before graduating from Miami in 1975 with a degree in history. The library was now in her blood and it was off to Indiana University where she earned her master's degree in library science in 1976.
Facing a tight job market, Szudy returned home to Delaware and took a part-time job as technician in the Zoology Department at Ohio Wesleyan University.
"I spent two years breeding mice and rats, taking care of all of their fish, guinea pigs, and rabbits-all kinds of critters," Szudy said. "My main job there was to prepare the labs for the students."
It was not long before a position opened up in the library at Ohio Wesleyan, head of technical services. Szudy got the job in 1979 and served in that capacity until coming to Otterbein in 1990.
"When I arrived at Otterbein, I think there were three personal computers in the building," Szudy recalled.
It did not take long for Szudy to introduce the first electronic collection management system and over the course of her 25-year tenure, Courtright Memorial Library emerged into what it is today, a gathering place for students, faculty and staff to meet and collaborate.
With the addition of the Otter Bean Cafe and classrooms in 2006, and a complete renovation of the first floor in 2013, creating a learning commons space, visits to the library increased by 25,000 from 2013 to 2014.
"People wanted to come rather than had to come, and that's what you want a library to be," Szudy said about the first-floor renovation. "We were getting a lot more students and a lot more faculty coming in to work on projects collaboratively. It is a very social area. Students like to be on the first floor where they can see all of their friends come in."
Now Szudy is not your stereotypical librarian. She loves to ride horses. One day over lunch in her second year at Otterbein, Szudy happened to mention to Maria Calderone, DVM, director of the Equine Science Program at the time, that she loved to ride horses and always wanted one, but could not afford it. Calderone signed her up for horseback riding lessons, and soon thereafter, Szudy became the faculty advisor for the Otterbein equestrian team. Finally 11 years ago, she fulfilled her dream of becoming a horse owner, purchasing an 18-year old thoroughbred named TJ's Hank for one dollar.
Szudy has been active across campus throughout her career at Otterbein, serving as co-advisor to Alpha Lambda Delta/Phi Eta Sigma, secretary/treasurer of Torch and Key, and led and supported the Otterbein United Way campaign for years. She also served on the board of PBJ Connections, which provides professional mental health and behavioral health therapy to youth and families using horses. She served as president of several statewide library organizations, including Ohio Private Academic Libraries and Academic Library Association of Ohio. She was an active member of OhioLINK and served on the board of OhioNET.
In 1999, Szudy became a true Cardinal, receiving her master's degree in education from Otterbein. In 2012, she received the Martin Luther King, Jr. Peace and Justice Award from Otterbein.
Although Szudy retired in 2015, she has continued to work part-time and volunteer. She spent 2016 working one day a week at the library at Muskingum University, and has been working part-time at Courtright Memorial Library this year. Szudy continues to volunteer with PBJ Connections.
"People say I don't know how to retire," Szudy said.
Yes, Lois Szudy has been standing strong for Otterbein for 27 years. Now if we could just get her to sit down awhile and enjoy retirement. New Zealand is high on her bucket list.