Alan Goff '75 and Coral Harris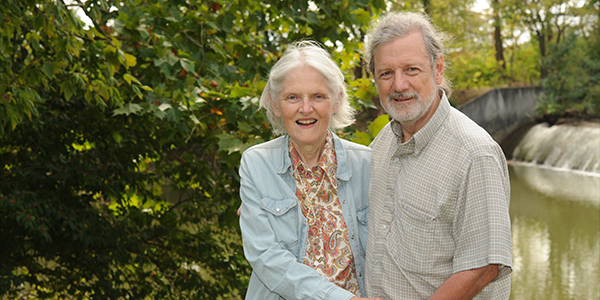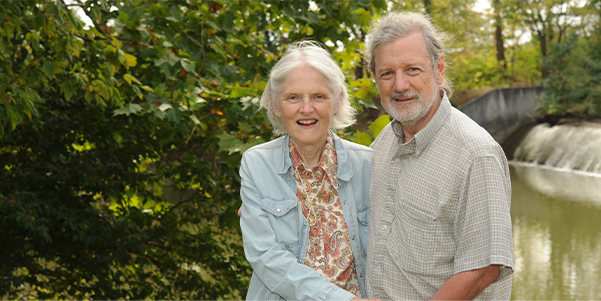 Global warming, water scarcity, and disappearing arable land are some of the reasons behind the creation of The Innovative Sustainability Fund.
The $100,000 fund, established by Alan Goff '75 and Coral Harris earlier this year, will feature a solar powered well and an outdoor laboratory at The Point as well as to help fund programming and internships for students in the Sustainability Studies program at Otterbein. The couple also agreed to contribute $25,000 to the Otterbein Fund over a five-year period for unrestricted support, allowing Otterbein to have needed resources for day-to-day needs and opportunities.
Alan and Coral visited Otterbein several times over the last year, sitting in on classes and getting a behind-the-scenes look at the Sustainability Studies program. The couple feel climate change is one of the biggest issues facing human society, and that education is an essential part of the solution to the problem.
"To us, sustainability means living responsibly within the confines of the earth's natural resources," Alan and Coral wrote in an explanation for establishing this fund. "If we continue to alter our environment and destroy our water, air, and arable land, we will suffer great social disruptions, perhaps even extinction.
"It is our heartfelt belief that an educated society offers the best possibility to create positive change for the survival of humans as well as other beings," the couple continued. "An educated society is essential to understand these complex problems and be comfortable with the uncertainty. Without education, the future for humans and other beings is indeed bleak."
One of the more interesting projects of the Sustainability Fund is an off-the-grid well/art installation, a collaboration between the arts and the sciences. Associate Professor Kevin Svitana, chairperson of the Sustainability Studies program, and Associate Art Professor Jim Bowling will work with students to create a water piece that complements the exterior aesthetics of The Point.
"We are actually going to install a well in front of The Point," said Svitana, who plans to use the project in his hydrology class next spring. "It is going to have an off-grid electrical system such as a solar panel to operate and will be integrated with some type of artwork, like a waterfall or fountain."
Future classes will be able to maintain the well and learn how to design, build and install an off-grid water supply, said Svitana, who also expects the project to help students studying abroad like in Africa where finding water can be a challenge.
"If they are in an area with no electricity, and people want to have some type of reliable water supply," Svitana said, "then this would be a way to implement something like that."
Erin Bender, executive director of The Point, is also exploring ways to incorporate signage for the facility in the well's artwork design in addition to planning the Outdoor Learning Laboratory, a major focus of the Sustainability Fund. The outdoor lab will serve as a hub for students and faculty conducting research at Otterbein Lake and Alum Creek.
"As we bring more summer camps, K-12 students, into the facility, the outdoor lab provides an opportunity for them to engage in more outdoor activities throughout the time that they are here," Bender said.
In addition, the outdoor lab will be located just outside the indoor laboratory for science and mathematics education majors, providing them an opportunity to explore various ways to create a curriculum for K-12 programs not only indoor in the laboratory, but outdoor as well.
The outdoor lab will consist of a concrete pad with roof overhang; two outdoor sinks with long stainless steel tables; storage; tables, benches and chairs, according to Bender. Students will also have access to W-Fi and computers and monitors on mobile carts.
Otterbein's Sustainability Studies program strives to challenge students to look beyond the surface of the issues and explore the complexity of what may seem to be simple solutions. Thanks to Alan and Coral, Otterbein students have more opportunities to learn and practice a sustainable lifestyle, which will benefit them and planet Earth for many years to come.
Alan and Coral embraced Otterbein's idea of Building a Model Community and wanted to join in the spirit of experiential learning with community members, students, faculty, staff, and alumni, working together to educate and make a difference in the lives of all. The couple would prefer that the focus not be on them but this initial seed, which allows Otterbein to STAND out from other institutions in the area and put its mission in action. They hope that others will join them by adding resources to The Innovative Sustainability Fund or think about establishing a fund at Otterbein that honors a passion or life's work so that the Otterbein community can benefit.