Mike and Judy Christian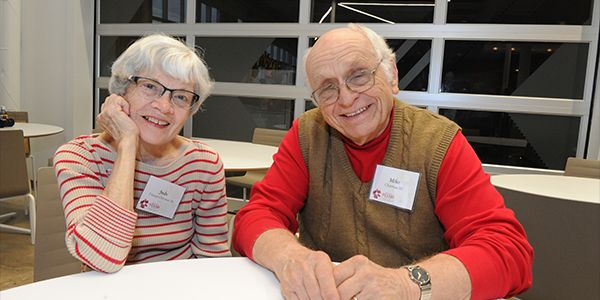 This is an Otterbein love story.
It began in 1958 and continues right up through today.
Mike and Judy Christian, Class of 1961, went to see the movie, The Old Man and the Sea, on their first date, a double date in 1958. Mike's roommate, Al Gress '61, who was also a high school classmate of Judy's, wanted to go on a date with a particular girl-she would not go unless it was a double date. Al talked Mike into taking Judy to the movie. Later, she invited him to a Sadie Hawkins dance at her sorority. The rest is history.
The couple married on Nov. 24, 1963. "As I was about to walk down the aisle with my father," Judy recalled, "our photographer said 'they just shot Oswald.' We spent the first day of our honeymoon watching the funeral of President Kennedy."
Following graduation from Otterbein, Judy attended the University of Wisconsin-Madison, earning her master's degree in microbiology in 1963. She and Mike were married while Mike was in his second year at United Theological Seminary in Dayton, Ohio. Judy worked in the microbiology lab at Good Samaritan Hospital while Mike finished seminary with a Masters of Divinity and Masters of Christian Education. He was ordained in 1966 and had his first appointment at Fairview U.M. Church in Dayton.
"I never wanted to be a senior pastor," Mike said. "I wanted to be in Christian Education as an associate pastor in charge of church programs such as youth, catechism and Sunday School."
The couple spent the next 16 years, eight each at Parma Good Shepherd U.M. Church in Parma, Ohio and the Medina U.M. Church in Medina, Ohio with Mike serving as associate pastor for Christian Education.
While in Parma, Judy volunteered with the Fine Arts Council and picked up a new hobby of woodcarving, her neighbor serving as her teacher.
"I met lots of wonderful woodcarvers from around the state and elsewhere as I participated in numerous woodcarving shows that Mike and I enjoyed attending," Judy said.
Mike, not to be outdone, also found a new hobby while serving in Medina. He joined a chorus singing barbershop.
"I never sang before joining the Medina Barbershop Chorus," Mike said. "Now I've been singing barbershop for 34 years and have loved every minute, even better than baseball and, for me, that's saying something. I've had no music training, but somehow have managed to be in three different quartets."
Mike's lifelong hobby, however, is Cincinnati Reds baseball. He has attended over 700 Reds games and watched or listened to well over 6,100 more. Mike played two years of baseball at Otterbein until a career-ending injury. As a student, Mike never received his letterman jacket despite having enough innings and was surprised to receive that jacket as a gift from the school when he retired.
The pair returned to campus in 1985 when the position of Director of Church Relations became open. He applied for the position and was appointed by the Bishop to serve in this capacity.
"I never dreamed I would leave the local church," Mike said. "I wouldn't have left if it had been any other school but Otterbein. Judy and I always planned to retire in Westerville. We just got here 25 years early."
Mike and Judy excelled upon their return to Otterbein. Judy quickly moved from receptionist in admissions into the Life Science Department where she taught labs in microbiology, anatomy and physiology. She was granted "emeritus" status upon retirement.
Mike helped put Otterbein on the United Methodist map, reaching out to churches throughout a four-state region and matriculating 176 students to campus during his 18-year career. Mike also centralized all the endowed awards and scholarships into a single place and helped fund-raise for additional endowed scholarships and awards.
Mike retired from Otterbein in 2002, but worked part-time in the dining hall just for fun until Judy retired in 2004.
The couple has established a bequest as a part of the Otterbein "Where We Stand Matters" campaign. The Christians plan to leave a substantial part of their estate to establish the Judy and Michael Christian Biology Endowed Award.
"We always wanted to provide an endowed award in Judy's name for her work in science at Otterbein," Mike said. "We both feel we owe a lot to Otterbein and those who helped shape our lives, especially Dean Van Sant, Dr. Phil Deever, Dr. Jeanne Willis and Prof. Charles Botts.
"Yes Sir . . . a mighty grand place, our dear Otterbein."