Dick & Carolyn Bridgman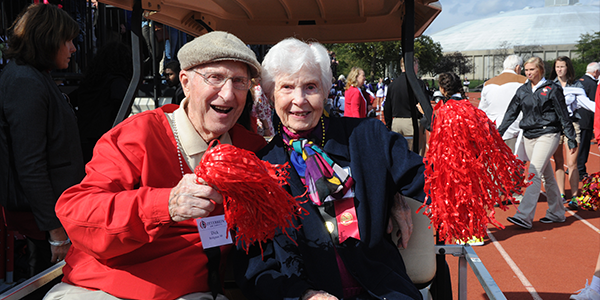 Dick Bridgman '49 began giving to Otterbein University as a student, not only because he was convinced to do so by fellow senior Art Schultz '49, but he also wanted to impress a certain young lady's father. The $10 that Dick gave to Otterbein as senior has turned into a lifetime of giving to his alma mater, having never missed a single year of making an annual gift. And that young lady, Carolyn Boda Bridgman '50, daughter of Dr. Harold Boda '25, has been his wife for more than 60 years.

"Carolyn and I had a great experience at Otterbein – partly because of the friendly feeling on campus and in the community and partly because of the professors," he said. "We felt that Otterbein really cared about its students."

Carolyn said she and Dick have always been "big savers." When they heard about being able to give to Otterbein via a charitable annuity while on a Cardinal Migration, they decided it was the perfect opportunity for them to invest in and give back Otterbein.

"We know that there is always a need for student assistance," Carolyn said. "Otterbein is such a good institution, and what it stands for, we believe in. We have to support that."

Throughout the years, the Bridgmans also have supported Otterbein through a family legacy of proud alumni – son Rev. David Bridgman '78, son Dr. Michael Bridgman '73, grandson Jeremy Bridgman '04 and granddaughter Charis Bridgman McFarlane '07.

Unfortunately, in 2005, Dr. Michael Bridgman passed away after a battle with pancreatic cancer. In memory of their son, Dick and Carolyn, along with Michael's wife Cindy Hupp Bridgman '75, established the Dr. Michael S. Bridgman Prize in Mathematics in 2006. The Bridgman's have documented their desire to support this fund through their estate.

Dick and Carolyn, who reside near Dayton, Ohio, said that they always look forward to coming back to Otterbein's campus and have benefitted from the many Otterbein connections they have made throughout the years.

"We hope that others had as good of an experience at Otterbein as Carolyn and I did," Dick said.

The Bridgmans said they never dreamed they would have enough money to give to Otterbein, but it is rewarding to do so. "It is a good feeling to be able to (give money)," Dick said. "I think that if others give, they will realize that.".