David Cawley '88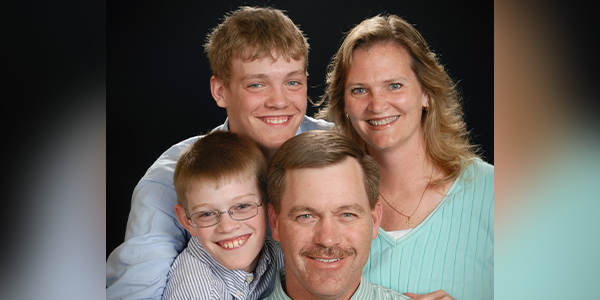 Up until his sophomore year of high school, all David Cawley '88 knew about Otterbein University was that the institution had "cool varsity jackets." David's father, Larry Cawley '62, who had played baseball and basketball for the Cardinals, was the owner of that 'cool varsity jacket.' David said his father wanted him and his siblings – Vicki Cawley Pitstick '89, Peggy Cawley Webb '93 and Steven Cawley '98 – to attend the college that was right for them. And for each of them, the right fit was Otterbein.

"I didn't want to go to a large school," David said. "Otterbein was the perfect size, and the Lord wanted me to be there, so that's where I ended up and where I needed to be at that time in my life."

During his first year at Otterbein, David attended the first-ever meeting of the student organization, Otterbein Christian Fellowship (OCF). Growing up in a Christian home, David said he had accepted Christ at an early age. Still, when he moved away from home to attend Otterbein, he said he needed to understand if his faith was truly the center of his life or just the center of his family's life.

"Otterbein allowed me to realize that I had accepted Christ on my own and helped me grow spiritually," he said. "When a student decides if Christ will be a main part of their life, OCF can be there to help them mature in their spiritual life." While at Otterbein, OCF was a huge part of David's life. He served as the organization's president during his junior year. "That's what I really liked about going to a small school – it allows you to take advantage of opportunities," he said. "You can be an important part of a student organization."

David said that Otterbein was a place of great memories and a place to which he wanted to give back.

"I loved my time there," he said. "I wanted to perpetuate someplace that did so much for me. I wanted to perpetuate someplace that continues to develop and grow."

Through a trust provision, it is David's wish to provide an endowment to support OCF or its faith-based successor.

"I want the organization to have the ability to do what is necessary in the name of Christ in central Ohio," he said.