The Obligation to Give Back is Important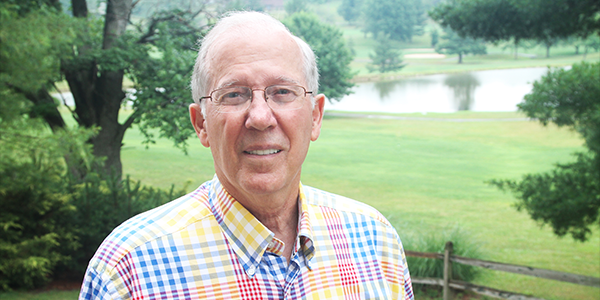 I STAND with Otterbein because...the core values and high standards to build young people to become well-rounded adults capable of contributing to society remains as true today as it did when I was a student.
The faculty is very educated, very capable and very caring of the students. There are so many caring people at Otterbein. That isn't true on all campuses.

When I think of my own faculty mentors I remember Mrs. Nelson. We once spent a whole class defining the word 'hate.' The class needed to agree upon a one-word definition and we chose 'destruction.' I still remember our discussion that negative feelings have the ability to destroy. Mrs. Nelson understood young people, she really loved them, and her lesson still matters to me.

I give to Otterbein because of the importance of education. The quality of the experience-the academic, the social and the spiritual-and the maturing process that happens here is so important. Otterbein people believe in encouraging students not only in how to accept responsibility but how to accomplish their goals.

We will never be able to pay back all that we have been given. But we can give back to others and we can give to the next generation. When we contributed to the conversion project of professor Lilian Frank's residential home to the Frank Museum it was the result of a lot of encouragement from my late wife, Glenna. I continue to financially support projects that I know would please her.

I believe the obligation to give back is important. I give to operating funds because I know it will help keep Otterbein affordable. I give to the Annual Fund because it is a good habit. It makes you feel as if you've accomplished something even if it is just a few dollars. I also enjoy talking to the students who call.

Where we stand does matter. There is a focus on the future and Otterbein has excellent momentum. President Kathy Krendl has proven herself. All you need to do is read the mission and vision statement. That is why I have confidence that Otterbein is going to last. That is why I STAND with Otterbein.

Shared by Richard "Dick" P. LeGrand, Class of 1962

Dick LeGrand and his late wife, Glenna, are loyal and long-time supporters of Otterbein. Their generosity through the years stands to make a difference for Otterbein through 31 years of giving to the Annual Fund; a cash gift to establish a fund for the and preservation of the Frank Museum's art collection to provide resources to extend the life of Otterbein's collection for years to come; and an estate commitment that will give Otterbein the discretionary ability to meet its most pressing institutional needs and act on new initiatives at the time the gift is realized.